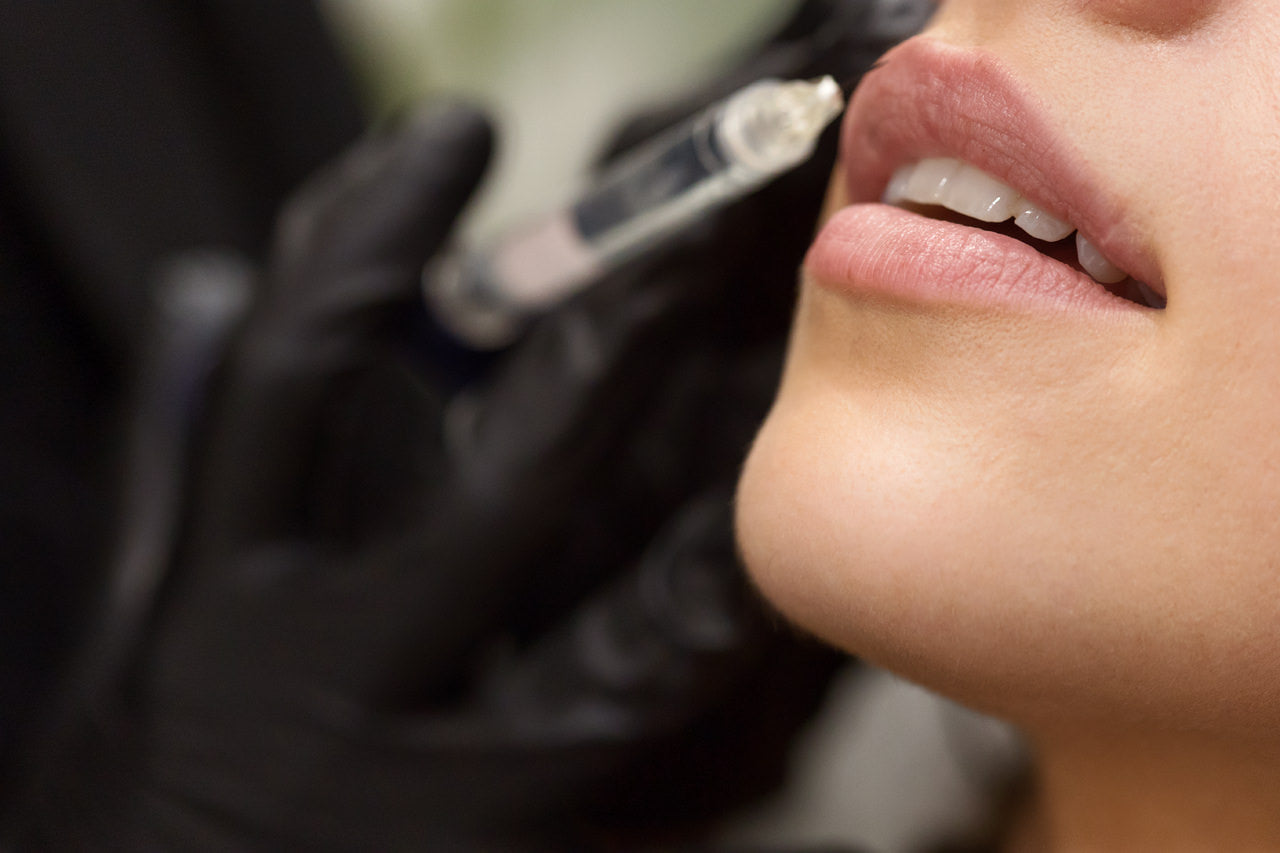 Dermal Filler
Dermal Fillers are commonly used to plump, contour and restore facial volume. The most common areas that can be treated are the lips, cheeks, chin, jawline, nasolabial folds and marionette lines. 
FAQs
What are dermal fillers?
Dermal fillers are injectable gels that restore volume to areas of the face. Dermal fillers replicates the actions of a naturally occurring sugar molecule, attracting and holding water to assist with skin hydration. Fillers can 'plump up' small areas such as the lips and tear trough and 're-volumise' larger areas like the cheeks and jawline. Sometimes they're used in conjunction with anti-wrinkle injections, which relax facial muscles, or with other treatments that restore skin tone, to rejuvenate the whole face.
Which areas can be treated?
Lips, Cheeks, Chins, Nasolabial Folds, Tear Troughs, Marionette Lines, Jawline, Smokers/Lip Lines.
Are results instant?
Yes, results are instant, however swelling is a common side effect from dermal fillers. They will settle and improve over the following 2-4 weeks post treatment.
How long do results last?
Lighter dermal fillers generally last 6-9 months, and deeper dermal fillers (cheeks/ jawline etc) last 18-24 months.
How long does the treatment take?
An initial consultation will be completed with all new clients, with all paperwork and consent forms completed. Consultation and approval will then be obtained by the supervising cosmetic doctor (face to face or via Skype video conference call) for the treatment, and a prescription will be written up to cover the patient for 12 months worth of future treatments. Generally an initial appointment will take 40 minutes. All future treatments should only take around 25-30 minutes.
Does it hurt?
We find that different areas of the face attract different pain scales. Lips and around the mouth can be a little more sensitive than other areas on the face. The injections may sting a little however most people tolerate the treatment well with the use of topical anaesthesia and/or ice.
Are there any side effects?
The injection may sting for a short while, and in some cases can cause some temporary localised reactions. While every precaution will be taken to prevent any complication, and that complications from this procedure are rare, they can and sometimes do occur. These include but are not limited to;
Redness, pain/ tenderness of area treated
Bruising
Itchiness
Firmness/ lumpiness of the treated skin (temporary)
Prolonged firmness/ lumpiness of treated skin (rare)
Infection (rare)
Greyish discoloration at implantation site (rare)
In rare cases there is a chance of developing lumps or nodules that may be of the inflammatory nature.
High risk areas such as the nose, temples & tear trough pose a higher risk (however extremely rare) of blindness.
Potential blockage of blood vessel (vascular occlusion) which requires immediate dissolving of dermal filler
Who is not suitable for dermal fillers?
Known sensitivity to dermal filler products
Pregnant, breastfeeding or trying for a baby (including IVF)
Bleeding or clotting disorders
Active skin conditions/ infections (cold sores etc)
Any Autoimmune diseases (Including Sarcoidosis, Lupus, etc)
Will I look natural?
YES! We pride ourselves on keeping our patients looking fresh faced, and not over done! We generally treat patients conservatively, to minimise risks of any side effects associated with high doses and too much product. However, this means that a small minority of patients may require a follow-up "top-up" treatment or their initial treatment results may not last long enough. In this case we can adjust the amount for subsequent treatments to achieve the desired results. Injecting more is easy, correcting any untoward side effects can be difficult.
How much does the treatment cost?
Lips - from $450-700
Lip Lines/ NLF - from $700
Cheeks - from $1400
Jawline- from $1400
Chin - from $700
Temples - from $750
Tear Trough - from $750
Be sure to check out our Instagram for monthly exclusive offers.
DUE TO AHPRA & TGA RESTRICTIONS WE CAN NOT SPECIFY UNIT/PER ML PRICES OR BRAND NAMES. FOR MORE DETAILS PLEASE CONTACT THE CLINIC ON 0401 458 006.
Please note: Individual results may vary. All invasive procedures carry risks which need to be discussed with a cosmetic doctor. It is always recommended to also seek a second opinion from a qualified health practitioner.
DISCLAIMER
Base Aesthetic Clinic does not offer cosmetic injectable treatments to any patient under 21 years of age.
Real People, Real Results
Before and after results of dermal filler treatment.
Please note: It's important to remember that treatment plans are NOT a one size fits all. Thorough consultations and individually tailored treatment plans are essential for natural, well balanced results.