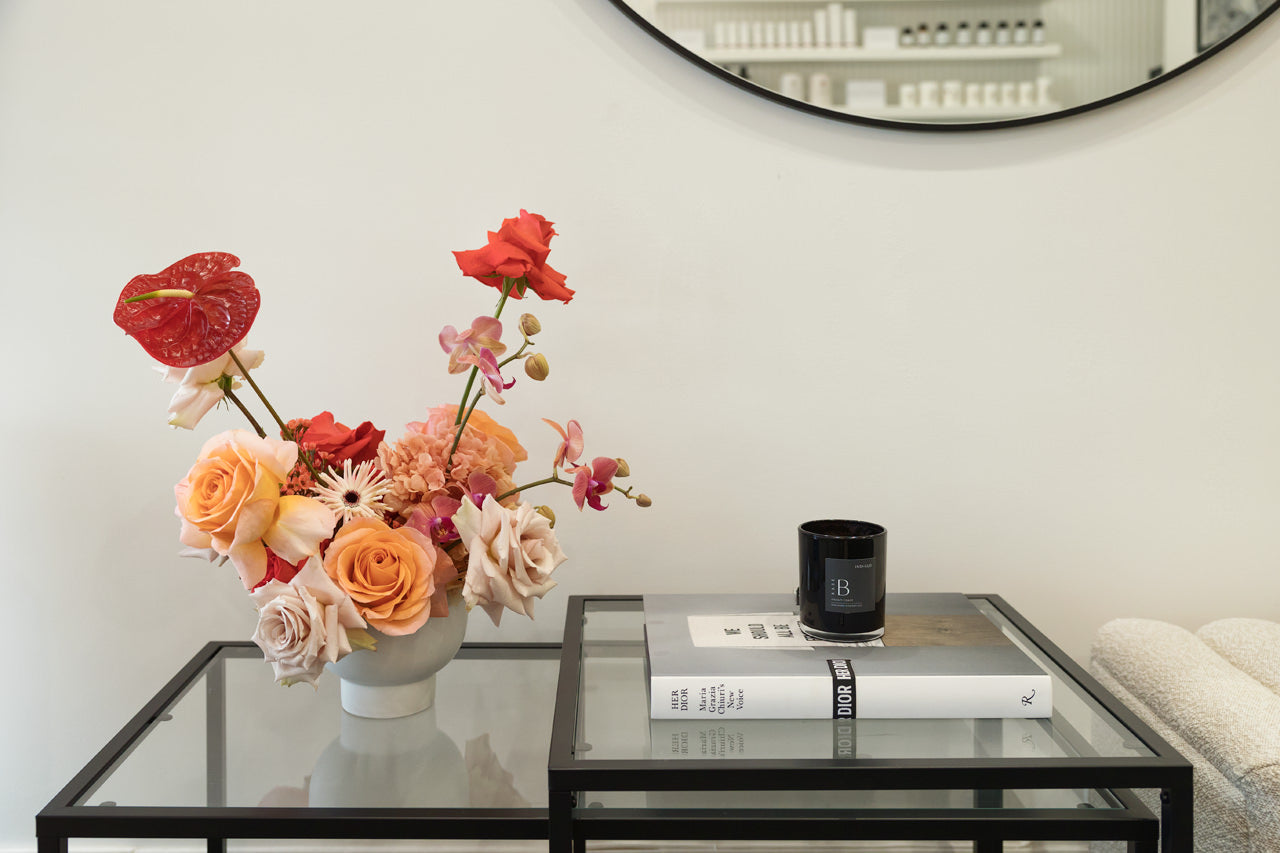 Beauty is based within.
At Base our intention is to inspire self nourishment through minimal enhancements that achieve our signature au naturel results. Our refined injectable, skin and beauty treatments are consciously provided by our passionate team to help you look and feel beautiful at your Base.
We believe we are all beautiful works of art. Which is why our treatments are tailored to your unique canvas. Our experienced team of registered nurses and aestheticians are here to help create the best version of you, with you. Come visit us at our boutique clinic based in South Perth, and begin your well deserved journey of self nourishment.
Bridget Savage
RN, CLINIC OWNER
Our flawless founder Bridget Savage began Base Aesthetic Clinic in 2018. After almost ten years specialising in cosmetic injectables, Bridget did what we were all thinking and launched her own bespoke clinic inspired by her personal philosophy; beauty starts at your base.
After obtaining her Bachelor of Nursing degree from Deakin University in2008, Bridget began her career in Aesthetics, focusing solely on cosmetic injectables since 2010. Over her many years in the industry she's had the privilege of learning from some of the world's most esteemed cosmetic practitioners. From whom she recognised the importance of ongoing self development and education in this ever-changing industry. Her minimalist approach to aesthetics and signature subtle results since accruing her longlist of loyal clientele.
When Bridget isn't in the Clinic making waves in the cosmetics industry, she's swimming in them with her husband Tom and three girls, Poppy, Charlie and Winnie. Always searching for ways to grow her knowledge and inspire confidence in others.
To Bridget, beauty is having a balance of both inner and outer qualities that make a person unique and captivating. It's about being comfortable in your own skin, being authentic, and radiating positivity and kindness towards others.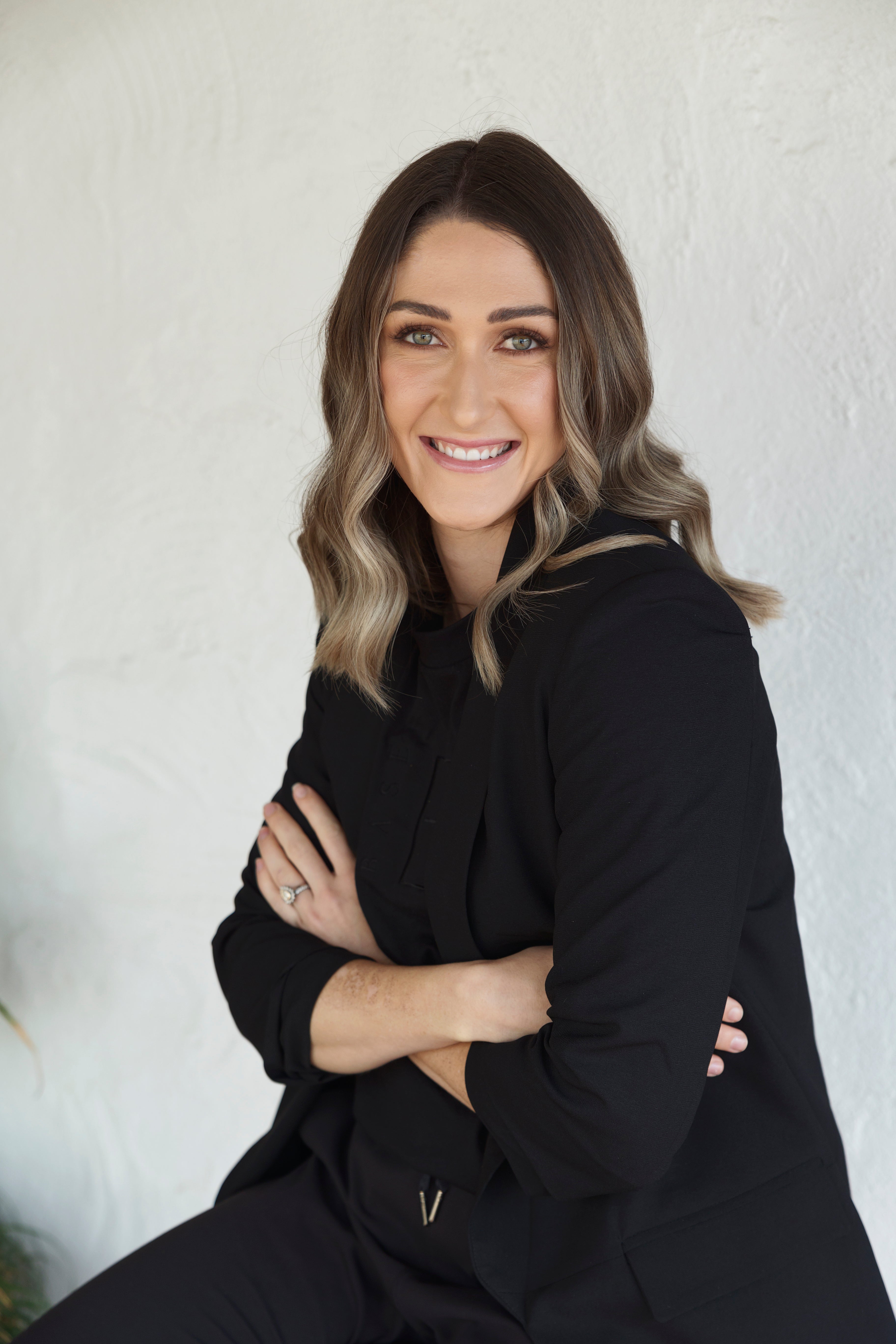 Brooke Hall
SKIN THERAPIST
Our resident Dermal Therapist and skin queen. Brooke was one of our very first Therapists here at Base and now we couldn't imagine life without her. Brooke's passionate personality combined with her extensive skin knowledge is unbeatable.
After completing her diploma of Beauty Therapy, Brooke began her career in Skin and Cosmetics here at Base. Her expertise in treating skin from every angle, both topically and through gut health has always made her an invaluable member of the team. Having previously struggled with skin issues herself, Brooke has a real passion for helping others combat skin issues without medication and her impressive knowledge on all things health, fitness and wellness continues to grow.
Outside the Clinic, Brooke trades her uniform for activewear. She is always training or moving in one way way or another, we can barely keep up. Brooke always prioritises well-being and treats her patients with the same immeasurable care she does for her family. Brooke is confident in creating real change in one's skin, to help give her clients confidence that lasts.
Beauty to Brooke is not something physical, it's a feeling of being comfortable and happy in your own skin, whatever that means to you. It means to be happy in who you are as a person. Beauty is what radiates from you when you have this feeling.
Angie Hunt
COSMETIC NURSE
Angie is our resident ray of sunshine. With a passion for skin that exceeds15 years, her philosophy; every day is a school day so there's always something to be learnt, is just one of the reasons we couldn't live without her here are Base.
She started out in the Industry as a qualified Beauty Therapist and completed her bachelor of Nursing shortly thereafter from CDU. Angie spent 9 years working in theatres across WA and scrubbing in for some of Perth's most renowned Facial Plastic and Reconstructive Surgeons.
When Angie's not at Base she's no doubt sitting court-side at one of her three boys' basketball games or watching anything from contemporary ballet to footy. While her gorgeous family of 6 keeps her busy most of the time, she loves to do yoga, walk the coast and volunteer in personal development workshops.
Beauty to Angie is feeling so confident in your own skin you can leave the house without make up on. It's an energy that radiates from the inside out.
Katie Hopkins
COSMETIC NURSE
Katie's gentle touch is well known in our Clinic. After more than 10 years as a registered nurse, Katie just has a way with creating a calm, soothing space. In an Industry that requires an acute attention to detail, there's no
trustworthier hands than hers.

She graduated from the University of Notre dame in 2009 as a Registered Nurse. After many years working in the surgical ward, operating theatre and Neonate ICU she eventually began her career as a cosmetic nurse in 2020 and never looked back. Katie's priority has always been giving her patients the highest quality care.

When Katie isn't taking care of her beautiful patients in the Clinic, she's spending time with her two little girls or enjoying a wine or two with her partner. A getaway never goes astray when it comes to Katie. She is always heading somewhere, whether it's to Pilates or Perth airport.

Beauty to Katie means having confidence in your own skin, feeling happy and beaming with positive energy inside and out.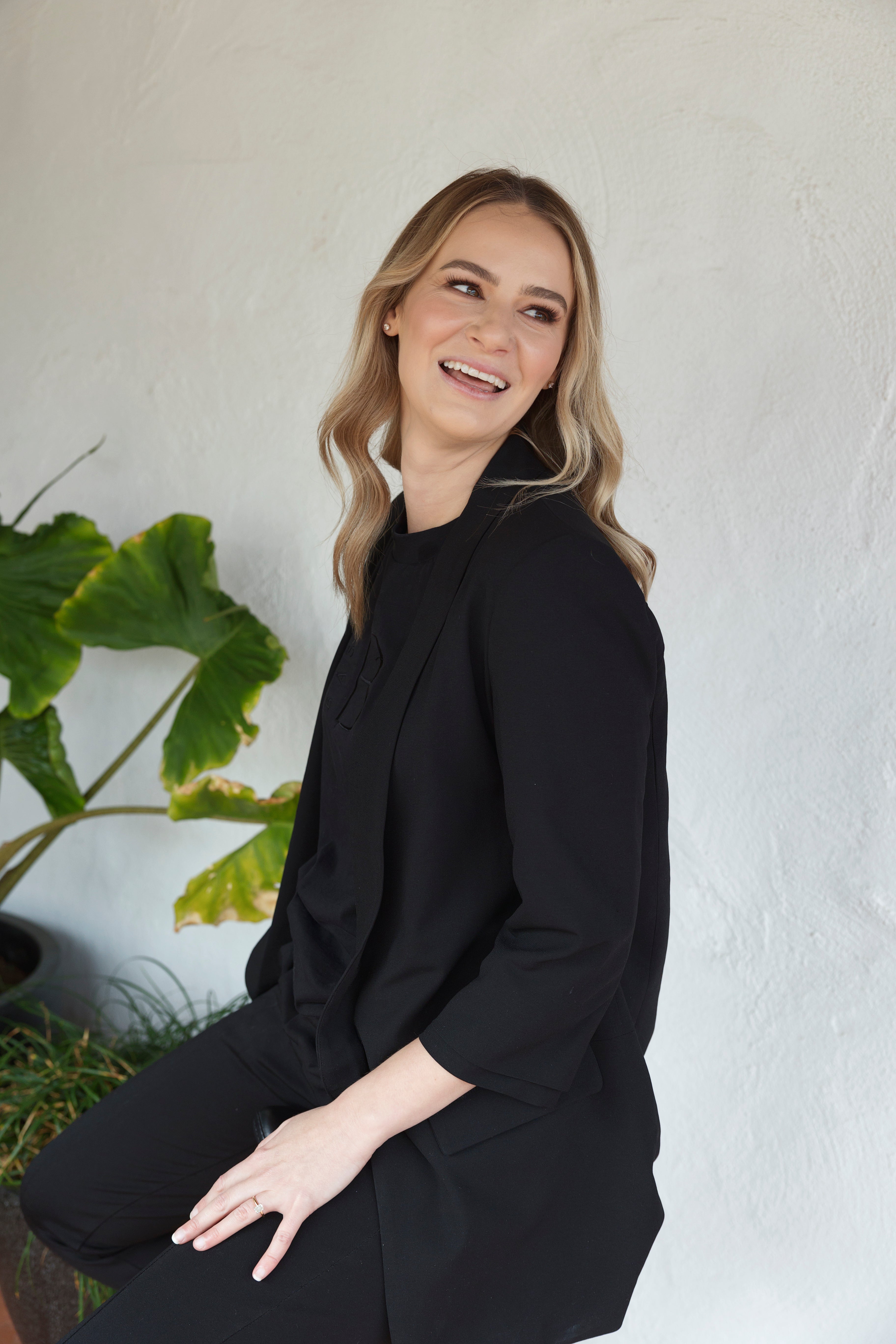 Sarah Sampson
COSMETIC NURSE
Sarah has always devoted herself to helping others, although when she finally followed her passion for beauty into cosmetic nursing she found her true calling. Now we couldn't imagine a day without her bubbly smile and
beautiful sense of humour.

After she graduated from the University of Notre Dame in 2014, Sarah spent the next 8 years working in busy emergency departments. For the last 2 years Sarah has had a successful career in cosmetic nursing, devoted to ongoing education and training, making sure she is always delivering her patients the highest quality of care and treatments.

When Sarah isn't in the Clinic creating beautiful, natural-looking results you'll catch her cuddling with her puppy and spending time with her husband. She's not one to say no to a board game or a wine night either. Her down to earth, unproblematic personality is just another reason we love her.

Beauty to Sarah means confidence in your own skin. Everyone is beautiful and she wants to help her patients find their confidence, so they can see how beautiful they truly are.
Bella Bacelic
BEAUTY THERAPIST
Bella is one of our talented beauty Therapists here at Base. Her passion for artistry and helping people achieve their aesthetic goals started from a young age. With results nothing short of perfection, we know there are only big things coming when we're talking Bella's potential.

Bella's career in Beauty Therapy began in 2021, after she completed her beauty therapy studies through the Australian College of Beauty Therapy. She worked for another salon in Fremantle until joining the team at Base in 2022. Now we can't imagine a day without seeing her contagious smile.

When Bella isn't in the Clinic creating bold brows and long lashes, she's living her best life at the beach before hitting the bar with friends. Bella is always looking for more opportunities to grow her knowledge of the Industry. Her passion for beauty knows no bounds, this week spray tanning, next week skin treatments. All we can say is keep your eye out for Bella.

To Bella, Beauty goes deeper than the surface. She believes it's in the innate kindness and care we show to others.
Natalie Smith
CLINIC CO-ORDINATOR
Natalie is the brains behind Base. From co-ordinating the team to organising trainings and schedules, she pretty much does it all. Her ability to balance a million things at once, all the while smiling, is what makes Nat such an invaluable member of our team, inside and outside the Clinic.

After being in the corporate world for nearly 10 years Natalie decided to make a career change to follow her passion, and she has never been happier. She became a beauty therapist here at Base and has since moved into the management space. While working as a therapist Nat built up a much loved following from her beauty clients. All of whom will be happy to know she personally trained our beauty guru Bella in brows, lashes and spray tans and in all of her renowned techniques!

When Natalie is not in Clinic she enjoys spending time with her family and living a low stress, easy going life. Her life outside of work is very family orientated, spending most of her time with her niece Natalia and puppy Alf. Snuggling up at home for an early night is just the sort of grounded, gentle, care-free person Nat is.

To Natalie, beauty is unfiltered and authentic. She believes being content and comfortable in your own skin is where beauty starts and ends.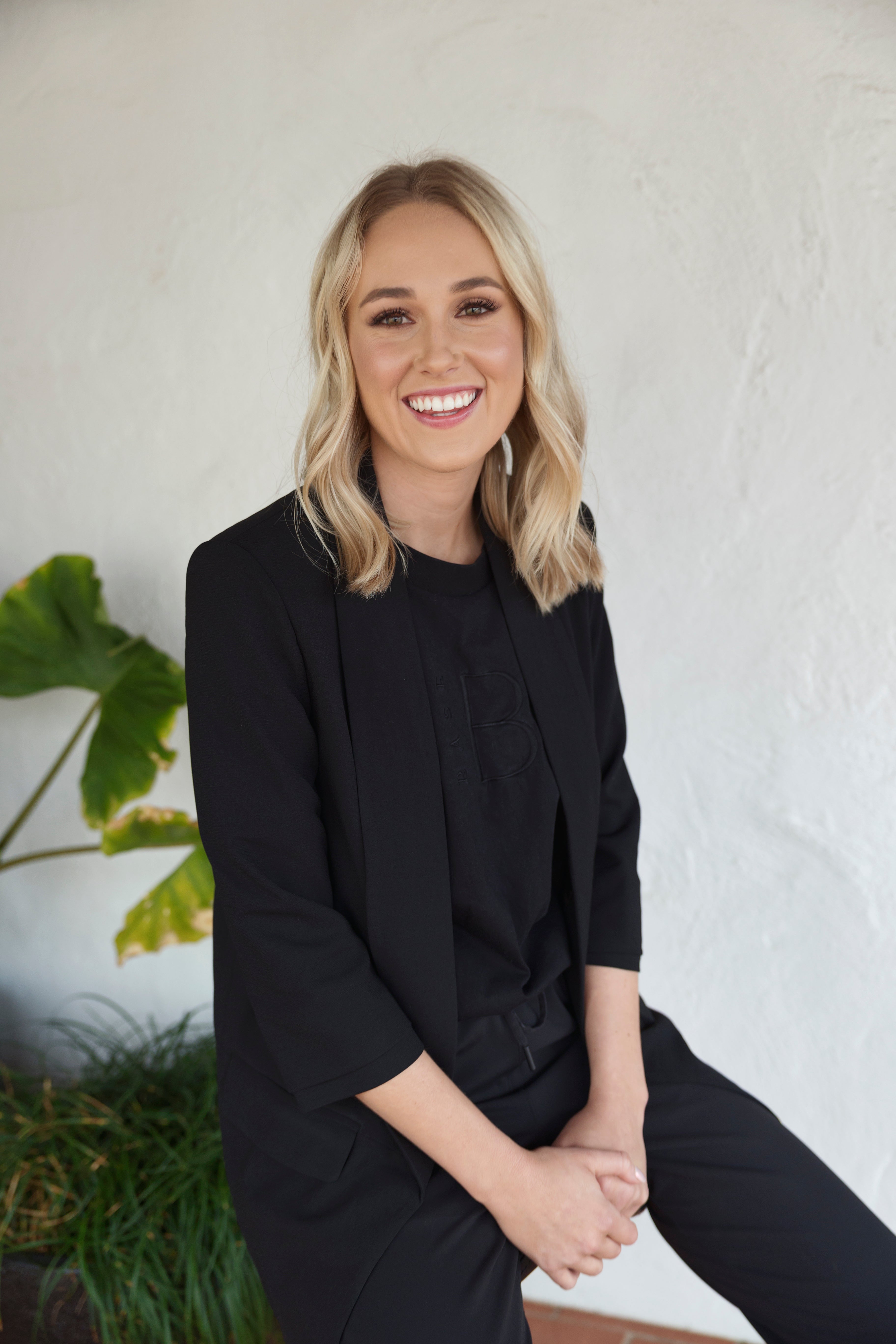 Courtney Seton
MARKETING MANAGER
Courtney is our content queen here at Base. She's the beautiful face behind the camera that creates all our Clinic's media. Court has always had a passion for skin and beauty, which led her to us back in 2020, since then she's been the glue that sticks us all together.

Having previously worked in Fashion, it was Courtney's personal experience with problematic skin that helped her find her calling here at Base. She completed her beauty therapy studies through the W.A. Academy and continues to expand her knowledge and build on her skills. After starting in Front of House, Court now works full time as our Marketing Manager. If you've seen our beautiful Instagram, you'll understand why we love her so much.

When Courtney's not running around creating content in the clinic, she's exploring new places with her friends and fiancé. There's not a lot that can dampen Courtney's infectious smile, she's always finding ways to enjoy the little things in life.

To Courtney, beauty is radiation of confidence, both mentally and physically. It's feeling the very best version of yourself.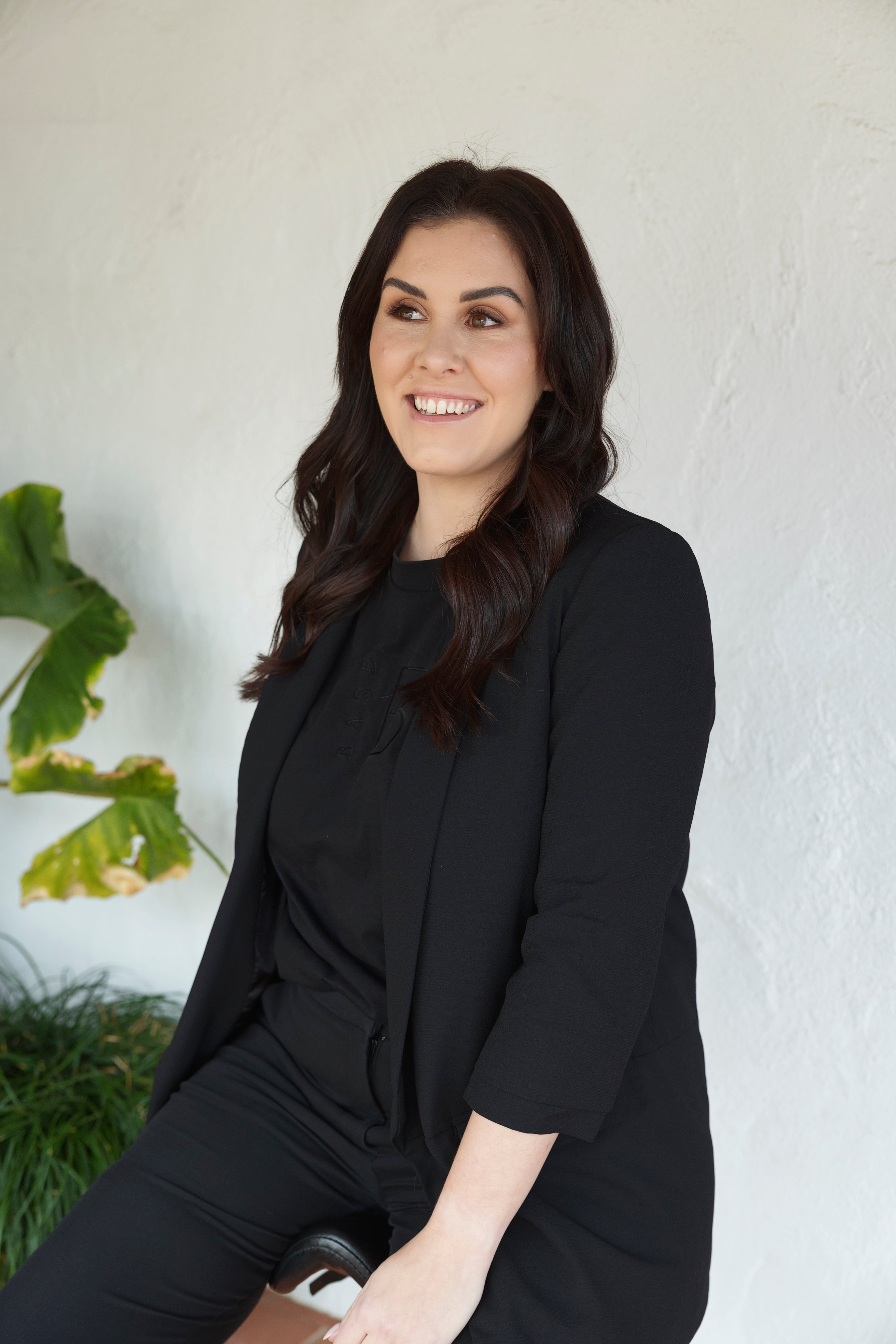 Tegan McKinney
FRONT OF HOUSE
Tegan is our cool, calm and collected Front Of House. From start to finish, Tegan always makes sure your visit to Base is as enjoyable and stress free as possible. Her next level organisational skills and quiet confidence are just a few reasons why we couldn't live with her.

After working in banking for over a decade, Tegan took a well deserved career break and focused on raising her beautiful family. When she returned to the workforce, Tegan was focused on finding a role that allowed her to have a work life balance, something we prioritise here at Base. We were so happy that Tegan joined our team and she's since become an invaluable member.

When Tegan isn't running around after us at the clinic she's running around after her two beautiful daughters at home. Making the most out of her weekends taste testing her husband's home made pizza and going on coffee dates with friends.

To Tegan, beauty is feeling comfortable in your own skin, from the inside, out. Making decisions based on not judgement but love, in order to allow yourself to feel beautiful.