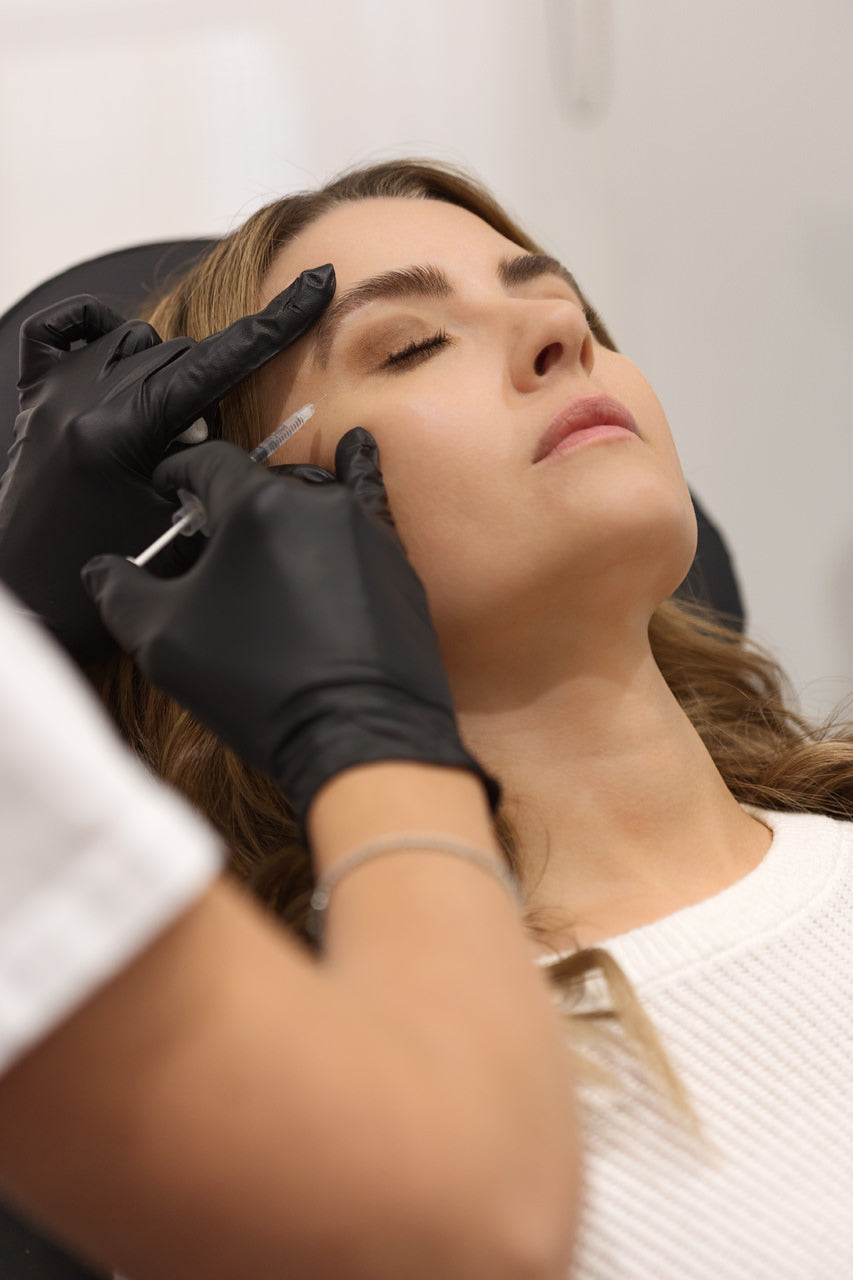 Skin Boosters
Skinboosters are injectable gels designed for intense skin hydration and rejuvenation of the face, neck and decolletage.
These are not thick, volumizing fillers. Skinboosters contain a cocktail of antiaging ingredients and non-cross linked (non-thickened) hydration which replicates the actions of a naturally occurring sugar molecule, attracting and holding water to assist with skin hydration.
Antiaging ingredients help brighten the skin and reduce fine lines and crepiness. Skinboosters are often used in conjunction with dermal fillers and anti-wrinkle injections to restore surface skin hydration and tone.
FAQs
Which areas can be treated?
Under eyes, Face, Neck, Decolletage.
Are results instant?
Results can take up to 4 weeks to see best results, however swelling is a common side effect from skin boosters and can take 1-2 weeks to settle.
How long do results last?
Skinboosters generally last 6-9 months, and require a course of 3 treatments 4-6 weeks apart to achieve optimum results. Top up single boosters treatments can be done after an initial course of three, and they are usually done every 6 months.
How long does the treatment take?
An initial consultation will be completed with all new clients, with all paperwork and consent forms completed. Consultation and approval will then be obtained by the supervising cosmetic doctor (face to face or via Skype video conference call) for the treatment, and a prescription will be written up to cover the patient for 12 months worth of future treatments. Generally an initial appointment will take 40 minutes. All future treatments should only take around 25-30 minutes.
Does it hurt?
We find that different areas of the face attract different pain scales. Lips and around the mouth can be a little more sensitive than other areas on the face. The injections may sting a little however most people tolerate the treatment well with the use of topical anaesthesia and/or ice.
Are there any side effects?
The injection may sting for a short while, and in some cases can cause some temporary localised reactions. While every precaution will be taken to prevent any complication, and that complications from this procedure are rare, they can and sometimes do occur. These include but are not limited to;
Redness, pain/ tenderness of area treated
Swelling (especially under the eye) that may last 1-2 weeks
Bruising
Itchiness
Firmness/ lumpiness of the treated skin (temporary)
Infection (rare)
In rare cases there is a chance of developing lumps or nodules that may be of the inflammatory nature.
Who is not suitable for Skin Boosters?
Known sensitivity to skinbooster products
Pregnant, breastfeeding or trying for a baby (including IVF)
Bleeding or clotting disorders
Active skin conditions/ infections (cold sores etc)
Any Autoimmune diseases (Including Sarcoidosis, Lupus, etc)
Will I look natural?
YES! Skinboosters are NOT volumizing fillers, they are a skin hydration and rejuvenation treatment designed to boost skin health and glow.
How much does the treatment cost?
Under Eyes – from $500 per treatment
Full Face – from $1500 per treatment
Neck Rejuvenation – from $1000 per treatment
A course of 3 treatments (4 weeks apart) is recommended. tailored treatment plan will be discussed during consultation with your treating practitioner and cosmetic doctor.
DUE TO AHPRA & TGA RESTRICTIONS WE CAN NOT SPECIFY UNIT/PER ML PRICES OR BRAND NAMES. FOR MORE DETAILS PLEASE CONTACT THE CLINIC ON 0401 458 006.
Please note: Individual results may vary. All invasive procedures carry risks which need to be discussed with a cosmetic doctor. It is always recommended to also seek a second opinion from a qualified health practitioner.
DISCLAIMER
Base Aesthetic Clinic does not offer cosmetic injectable treatments to any patient under 21 years of age.
Real People, Real Results
A series of 3 x under eye skin booster treatments were completed spaced 4 weeks apart to achieve these results.
Please note: It's important to remember that treatment plans are NOT a one size fits all. Thorough consultations and individually tailored treatment plans are essential for natural, well balanced results.